PA Herps
Reptiles and Amphibians of Pennsylvania:
By Christina Obrecht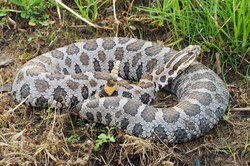 There are 20 different types of snake in Pennsylvania; 3 of which are venomous. 72 reptiles and amphibian species are native to the state of PA. (Picture to the right is of the eastern massasauga rattlesnake; found in the western part of PA). For more information please click on the species names below or go to www.paherps.com.
Venomous Snakes:(3)
*Timber rattlesnake - black phase/yellow phase
Non-Venomous Snakes:(17)
Lizards: (4)
*Italian wall lizard (introduced species)
Turtles:(14)
*Red-Eared Slider
Frogs & Toads:(17)
Salamanders:(22)
*Northern Dusky salamander
*Seal salamander
*Mountain Dusky salamander
*Northern two-lined salamander
*Longtail salamander
*Northern Spring salamander
*Four-Toed salamander
*Northern Redback salamander
*Northern Slimy salamander
*Valley & Ridge salamander
*Northern ravine salamander
*Wehrle's salamander
*Eastern Mud salamander
*Northern red salamander
*Mudpuppy
*Eastern (red spotted) Newt
<ISML TYPE="counter" OPTION=graphic_odometer>